Submersible LED Lights, which is designed to give functional and decorative lighting to water environment, has been quite popular in recent years. They are mostly in round shape, very portable, and can be submerged into water.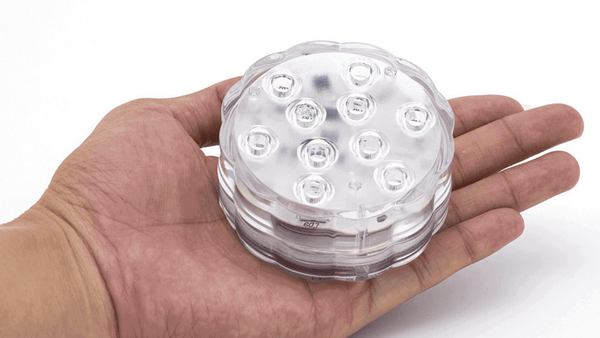 Besides using it in swimming pools, fish tanks, bathtubs, those color changing submersible LED lights also make it good lighting choices for centerpieces, vases, fixtures etc.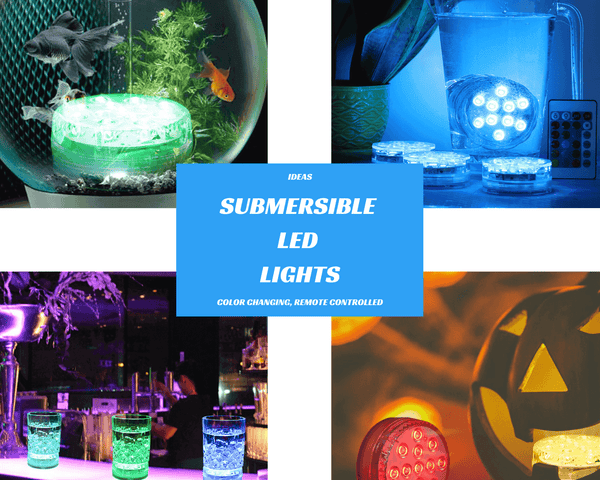 How to choose the right ones for you from myriads of color changing submersible LED lights? I hope this blog can give you some ideas.
1.Waterproof Capacity
When it comes to submersible LED lights, waterproof capacity should be the priority.
Submersible lights that are excellently waterproof ensures the lifespan. These lights are usually battery-operated. If water gets in, the battery case will get crusted gradually and affecting the working time.
There's a universal metric for waterproof capacity, which is called IP Rating. Items with higher IP rating have better waterproof capacity. The highest IP Rating is IP 68.
IP 68 material is what we use for our submersible LED lights. With 2 O-rings equipped, there's more peace of mind without worrying about water leakage. (Note: make sure the 2 halves of the lights are tightly twisted.)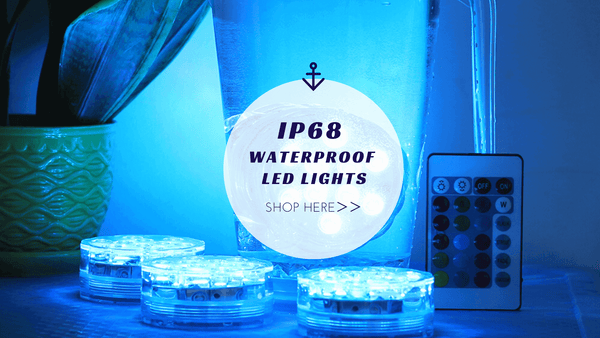 2.Remote Control
Trust me, get yourself remote controlled submersible LED lights will save you a lot of hassle. A lot! Lucky for you, all of our submersible lights are remote controlled.
Commonly, there are 2 remote control options: IR remote and RF remote.
If you're using it in a quite wide space and using it underwater mostly, RF remote controlled lights is recommended. An RF remote allows you to control your lights 98ft-164ft away! RF signal can also pass through obstacles like walls, fixtures. With just one RF remote, you can control multiple lights! Isn't it cool?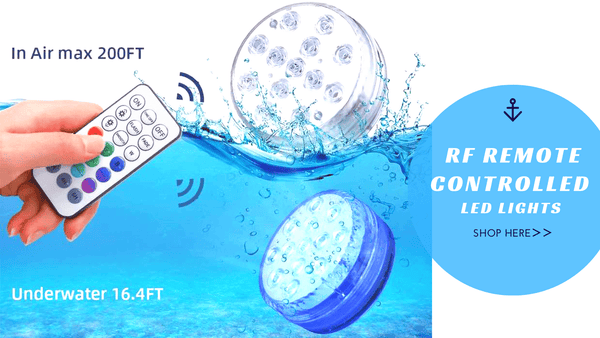 Then what about IR remote controlled lights? Well, IR remote allows you to set timers, control the brightness, change flashing colors and flashing modes just as the RF remote does.
However, the remote range of IR is usually shorter, which is 16ft-26ft far, and that's what makes it cheaper than RF ones.
Therefore, if you are using the lights for a smaller space such as your vases, table centerpieces etc., and want a more budget-friendly one, then you may try our IR remote controlled submersible light.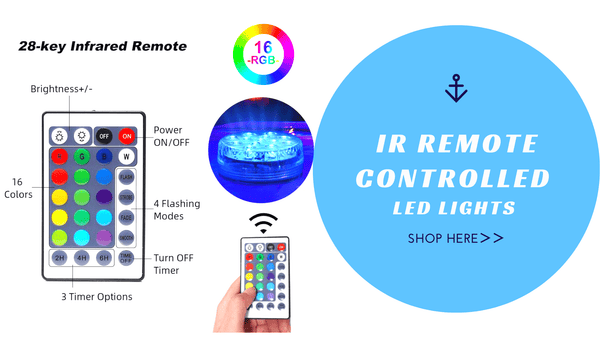 3. Sealing Force
Submersible LED lights can be used in many ways. Mostly, they are used on vertical walls.
For instance, submersible pool lights are mostly used in swimming pool walls. When you install the lights, if the sealing force is not strong enough then it may not make it to stick to the wall or come off soon after installation. We know that's a total ruin for your mood!
Thanks to our R&D department, our upgraded LED submersible pool lights with suction cups and magnets is born to save ya! With the suction cups, it can stick to smooth surface strongly, and we have added double suction cups. What's more, 2 magnets pieces ensure you stronger sealing force on iron surfaces. You'll definitely love it!